2014 Aug 2, 10:30-12:00 Main Stage North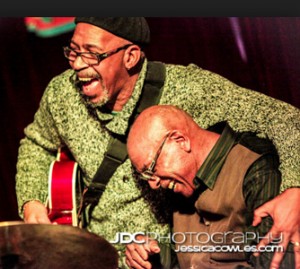 RYZ (pronounced "Rise") is a contemporary jazz group whose sound ranges from smooth to irresistibly upbeat — hitting a groove that makes you want to get up and dance, and will keep your toes tapping even after you leave this final act of the festival. The band has been together 20 years, but rarely appears outside of the Detroit area. Fortunately the secret is out! The legendary talents of Perry Hughes and "ryzing" star Gerard Gibbs are something you don't want to miss.
Perry Hughes ranks among the greatest of Detroit's jazz guitarists. He began his performing career in Detroit nightclubs at the tender age of 14, and hasn't stopped performing in the many decades since then. A self-taught musician, he went on to be an instructor of jazz guitar at Michigan State University. His approach to the guitar has been described as comparable to such greats as Wes Montgomery, Grant Green, Pat Martino and George Benson. His musical resume includes performing and/or recording with a long list of top jazz and pop musicians and leading vocalists, including Aretha Franklin, Bob James, Earl Klugh, Ronnie Laws, Mary Wilson & The Supremes, Martha Reeves & the Vandellas, Bill Heid, Marlena Shaw, Bobby Lyle, Joe Williams, Will Downing, Gene Dunlap and Irene Reid, as well as organ greats, Jimmy Smith, Richard "Groove" Holmes, Charles Earland, Dr. Lonnie Smith, Ronnie Foster, Don Patterson, Jack McDuff — and more recently, Gerard Gibbs.
Gerard Gibbs, born in Detroit in '67, has been a lover of jazz ever since his father introduced him at a young age to the music of the late jazz organist, Richard "Groove" Holmes. By age nine, Gerard was successfully studying classical piano, but never lost interest in jazz. While recovering from surgery in 1981. he received a surprise visit from "Groove" Holmes that triggered a special friendship and mentoring that lasted until Holmes' death in '91. Five years later he was learning techniques from organ great Jimmy Smith, forging a lasting friendship. He has also rubbed shoulders with jazz organists Joey DeFrancesco, Jimmy McGriff, and the late Jack McDuff, and was able to jam with "Mighty Burner", the late Charles Earland. All of these encounters helped Gerard develop into a versatile musical artist skilled beyond his years.
Gerard has performed nationally on the concert circuit with saxmen Marion Meadows, Ronnie Laws and James Carter. He has also lent his talents to the hot contemporary jazz group: Pieces of a Dream. While at home in Detroit, he remains busy as an Architectural Engineer for the City of Detroit by day, and leads two jazz bands at night and on weekends — not only playing keyboards with RYZ, but organ with his band, ORGANized Crime — reformed for a time as ReORGAN'YZ. Gerard's debut CD with his organ trio commemorated his first mentor, Richard "Groove" Holmes — coming full circle back to his start in jazz.