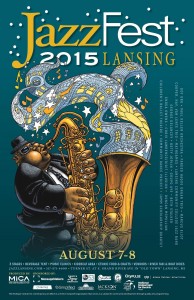 Entering its 21st year, the Lansing JazzFest is a two-day FREE music festival that brings national, regional, and local acts to an audience of roughly 7,000 people from across Michigan and nearby states.
JazzFest's music truly is living music, history in the making. Each artist at the festival is asked to play an original composition, something that hasn't been played at any other festival.
The 2015 festival will take place Friday, August 7  & Saturday, August 8, in the streets of Old Town, surrounded by the best of the Capital City's art galleries as well as unique retail stores and grand architecture. Vendors offer delicious food, beverages, art, clothing, and crafts, and nearby galleries and boutiques open their doors during festival hours.
Lansing JazzFest continues to grow thanks to the contributions of its sponsors and volunteers. Support Old Town, Lansing, and live jazz!
JazzFest is produced by MICA (Michigan Institute for Contemporary Art).

Donate to JazzFest