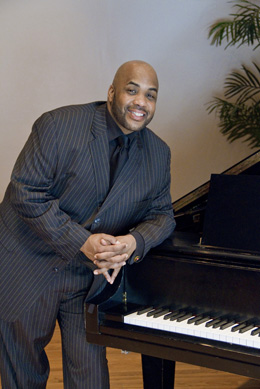 :: 2012 :: Roger L. Jones II is a native of Flint who has worked professionally with various artists in the USA, Japan, Europe, and Turkey since 1989. Roger discovered his musical abilities as a child at church while listening to organist Henry Moore. The church, Greater Holy Temple COGIC, was a musical proving ground for young musicians, and Roger's gospel background provided a springboard to his passion for playing jazz. After graduating from high school, Roger attended Oberlin Conservatory of Music in Oberlin, Ohio, where his musicianship and reputation grew exponentially. Roger has performed with Wynton Marsalis, Joe Henderson, Wallace Roney, and JJ Johnson, among others, and in 2004 released his first CD, "Out of the Wilderness."
2008 saw Roger Jones's reemergence as a cutting edge band leader. His current group is the Roger Jones Trio, with Tassili Bond on bass and Nate Winn on drums.
Mixed with a soulful and modern approach, the music of this band is hot and swings ridiculously hard. The Cliff Bells Jazz Review has heralded Roger Jones as one of the most explosive pianists of his generation. The Roger Jones experience is one you will never forget.