2014 Aug 2, Saturday 6:30 – 8:00 pm Main Stage South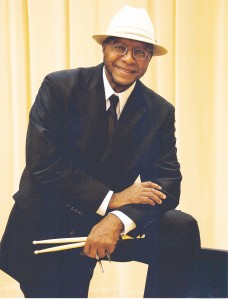 Randy "Uncle G" Gelispie is an extraordinary jazz drummer. During a performing career that spans more than 50 years, he's traveled to hundreds of clubs, and played with a Who's Who of jazz greats, including Dizzy Gillespie, Wes Montgomery, Tommy Flanagan, Etta Jones, Nancy Wilson, Lou Donaldson, Gene Ammons, Barry Harris, Oliver Jones, O.C. Smith, and Al Hibble.  Local performances have included outstanding fellow musicians such as Marcus Belgrave, Perry Hughes, Gary Schunk, Marion Haydan, Bill Heidt, Andrew Speight — and Rodney Whitaker and Rick Roe, joining him in the quartet at JazzFest. He has also worked with such Blues musicians as Jimmy Witherspoon, John Lee Hooker and Big Maybelle. And as an educator at Michigan State University, he's ensuring new generations of jazz talents.
Gelispie started on the snare drum at age 11, at a church in his hometown of Akron, OH which offered its songs with a jazz flair. At 16, Gelispie played in Ray Charles' band, substituting for a sick drummer, at the Armory in his hometown of Akron, Ohio.  Charles is one of Gelispie's two most revered musical idols. John Coltrane is the other. He has gotten compliments from both.
Straight out of high school, Gelispie went to work at Akron's dominant employer, Goodyear, while playing the local clubs. The headiest days of American jazz were at hand. A herd of giants, from Armstrong to Ellington to Monk to Miles Davis, criss-crossed the country. By 1958, Gelispie was doing the same.  And his reputation grew, including with successful musicians hearing him on the circuit.
In the mid-1960's, gigs slowly dried up. By the mid '70s, Gelispie had settled in Lansing with a growing family. He worked a day job at GM's Fisher Body plant, where both plant managers were jazz fans. Looking back, he said, it was a good time to settle down. A handful of Lansing clubs still hosted jazz. Most weekends, Gelispie played in Detroit clubs. When longer gigs came up, Gelispie's sympathetic bosses at Fisher Body didn't ask for a vacation slip.
In the late 1980s, Gelispie started tutoring drum students at MSU and was brought on as an instructor by Jazz Studies director Rodney Whitaker in 1991.Students credit him with giving priceless lessons that would be useful both in their music career and in life. Even non-drummers study with Gelispie to soak in his experience and knowledge.
The above includes material from an interview by Lawrence Cosentino, published in Lansing City Pulse, Feb. 6, 2013. Used with permission.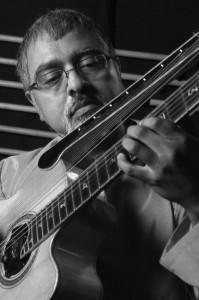 Fareed Haque is a modern guitar virtuoso. Steeped in classical and jazz traditions, experienced in Latin fusion and the jazz side of Sting, his unique command of the guitar and different musical styles inspire his musical ventures with a rare blend of tradition and fearless innovation.
Born in 1963 to a Pakistani father and Chilean mother, his roots and extensive travels exposed him to different musical influences from a very early age.  Later, repeated visits to Chicago jam sessions grounded him in blues and jazz traditions, and he went on to study at North Texas State on a Jazz Guitar Scholarship, before completing his studies in classical guitar at Northwestern University.
While at NU, Haque joined Howard Levy's latin-fusion group Chevere.  Levy introduced him to the Cuban NEA JazzMaster, Paquito D"Rivera, which resulted in numerous world tours.  D'Rivera in turn introduced Haque to the eclectic Grammy-winner Sting, who invited him to join his record label, where he released 2 critically acclaimed recordings.  Haque toured briefly with Sting, including a notable appearance at The Montreux Jazz Festival.
Haque has been featured on many radio and TV networks, including his own special for PBS, and on BET cable jazz channel. After a short recording stint at Warner Brothers, he was signed by the legendary Bluenote records, issuing three solo albums, and touring and recording with a host of jazz legends. In 2001 he co-founded the jam super-group Garaj Mahal, which toured extensively for 10 years, released its own successful CDs, and In 2007 won an Independent Music Award.  In 2009, Haque's acclaimed 2009 release Flat Planet was twice #1 on the World Jazz Radio charts.
He maintained success in the classical realm with numerous recitals as well as appearances with the Vermeer Quartet and many symphonies across the US and abroad.  Since 1988 Haque has been a professor of classical and jazz guitar at Northern Illinois University. He also continues a busy performance schedule at noted festivals and events around the world.
Additional quartet members: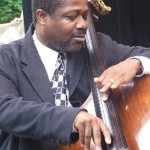 Rodney Whitaker, double bass: Internationally renowned bassist and Mack Avenue recording artist, Whitaker is Professor of Jazz Bass and Director of Jazz Studies at Michigan State University, where he has built one of the leading jazz degree programs and performing faculty in the United States.  He is considered one of the leading performers and teachers of the jazz double bass in the United States.  Whitaker has performed and toured with over 100+ legendary performing jazz artists over the past 25+ years.  Featured on more than 100 recordings – from film to compact discs – Whitaker's film scores, China and Malaria and Malawi, were released on PBS in 2002 and 2010.  Also, Whitaker has a DVD release featuring MSU's Jazz Department entitled, "Inside Jazz" and three new CDs, "Get Ready" and "Work To Do" on Mack Avenue Records and "Better Than Alright" by MSU College of Music.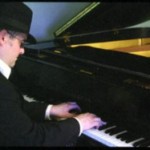 Rick Roe, piano: Roe won First Place in the Great American Jazz Piano Competition in 1994, was twice a Semifinalist in Thelonius Monk International Jazz Piano Competition, in 1993 and 1999, and has been a featured performer in the Jacksonville (Florida) Jazz, Savannah (Georgia) Onstage International Arts, Montreaux/ Detroit Jazz, Birmingham Jazz, Lansing Jazz, Flint Jazz, and Hawaii Jazz (with Frank Morgan) Festivals. Mr. Roe has served as an educator/clinician at the University of Arizona, North Texas University, Michigan State University, the University of Nevada, Las Vegas, the University of Michigan, and the Montreaux/ Detroit Jazz Festival. He has given performances with Marcus Belgrave, Donald Walden, Rodney Whitaker, Frank Foster, Andrew Speight, Wycliffe Gordon, Gerald Cleaver, Victor Goines, Louis Smith, Randy Gelispie, Vincent York, Wendall Harrison, Dwight Adams, and many others. His recordings include "The Changeover" (1997), "Monk's Modern Music" (1995), and "Sphere" (2005).