2014 Aug 2, Saturday 4:00-5:30 pm Main Stage South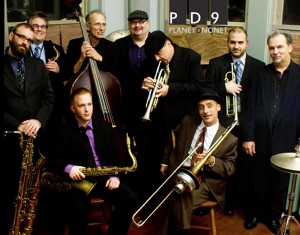 Planet D Nonet is about swing … and jazz …and blues … and classic American songs, all served up with plenty of good humor. The "D" in the name stands for Detroit, and "Nonet" is a group of nine.
The award-winning band was founded in 2007 by J Spangler and James O'Donnell, both founding members of the well-known Detroit band, The Sun Messengers. RJ won his first Detroit Music Award in 1982 while with the Messengers. Their exposure to the eclectic musician and philosopher Sun Ra began in the mid-70s, when poet-activist John Sinclair first brought his band to the Motor City. Planet D Nonet performed a tribute to Sun Ra at the 2012 Lansing JazzFest.
RJ Spangler is not only the guiding force for Planet D Nonet, but a record producer, a WC Handy Award nominated drummer, the producer and drummer for Alberta Adams, and leads an organ trio weekly at a downtown Detroit jazz club. He can also be heard on over 50 nationally available CDs.
Performing with RJ at JazzFest will be: Justin Jozwiak (alto sax & clarinet), Joshua James (baritone and alto saxes, clarinet), Jim Holden (tenor sax and clarinet), Dave Kosniak (trumpet and coronet), James O'Donnell (trumpet and vocals), John Paxton (trombone & vocals), Michael Zaporski (piano), and Kurt Kranke (bass).