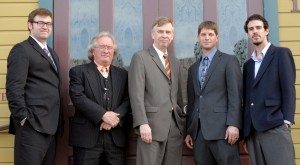 :: 2012 :: This is a one-of-a-kind Lansing band! Performing mainly gypsy jazz and acoustic swing, Hot Club of Lansing provides a roaring good time. Their music emphasizes Django Reinhardt and Stephane Grappelli's jazz style from Paris in the 1930s and 40s, but also touches on bebop and classic American jazz standards. These are definitely tunes to move your soul and your feet!
This swinging group is comprised of Timothy Williams on lead guitar, Bob McCarthy on vocals, guitar and mandolin, Travis Therrian on double bass, Benjamin Hall on vocals, and features special guest Tia Imani Hanna on violin.
Be there at 7 pm for a workshop with the musicians, and stay for a sizzling Hot Club performance at 8 pm.