2014 Aug 1, Friday 9:30 to 11:00 pm Main Stage South
Glenn Brown & Intergalactic Spiral is an all improvised cosmic jazz ensemble that specializes in spur-of-the-moment musical explorations inwards (imagination) and outwards (interstellar space). The brainchild of studio owner / producer / acoustician / musician Glenn Brown, the starting concept was simple: Gather some of the most accomplished musicians from the potent local scene, throw various combinations of those musicians into the studio, and press record – resulting in six hours of recordings which he refined into the 2010 named Intergalactic Spiral. He continues to find ways to bring that studio magic to stage performances, each unlike anything else you will have experienced. At JazzFest the stellar musicians performing are: Glenn on guitar and electronics; Jim Alfredson on keyboards; Mark Kieme on sax, flute, and bass clarinet; Robert Tye on guitar, David Taylor on drums, and a bassist to be announced (regular Chuck Bartels being unavailable).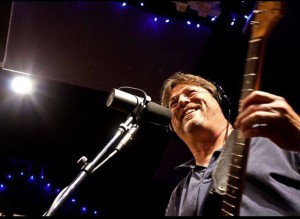 Glenn Brown has performed in Michigan for over four decades. He was guitarist for the Michigan-based space/rock band "Sonar Eclipse", and has worked with renowned groups as diverse as Spinal Tap, Kid Rock, The Detroit Symphony, Empire Brass, Root Doctor, Steppin In It, Madcat Ruth and more. His production studio's resume is long and distinguished, and he is well-known as an engineer and acoustician, not only around his home base of Lansing, but across the country. Those musician associations inspired him in 2007 to assemble a cast of characters to bring the idea of a free-improvisational experimental jazz group to life. Over the next few years, using a revolving band of musicians, he had accumulated over six hours of music, which were refined into the Intergalacic Spiral CD issued in 2010, and continue to inspire unique stage performances.