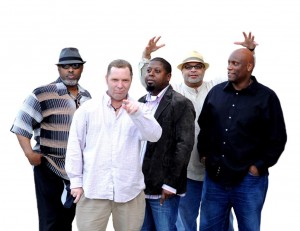 :: 2012 :: Best known for their sizzling live performances, the fo/mo/deep groove is rooted in the experimental school of the 70s, a time when jazz, soul and funk were one and the same. Seeking to defy the ordinary, this diverse collective of seasoned pros keeps things stirred up with unpredictable energy that moves. The music harkens back to the days when super groups hypnotized the world with bass driven ensembles and a full-bodied sound that reigned supreme.  fo/mo/deep plays music like it's meant to be—hot, incalculable and emotionally satisfying and fun for all ages.
This ensemble is made up of Ron "FatKat" Holmes Jr. on bass, Kenneth "Pounce" Pouncey as percussionist, Andre Scott on drums, Kevin Jones on keyboard, N. Michael Goecke on trombone/vocals, and Keith Newton on saxophone/flute. Band leader Ron Holmes says of the group that they "couldn't have put together a more diverse group of cats. [We] all have something interesting to say and contribute to this music. That's what I love the most—it's like a rich gumbo or masala—different all the time and always tasty."
Ron Holmes will also be leading a clinic on Saturday afternoon on the MICA Stage.