2014 Aug 1, Friday 7:00 – 8:30 pm Main Stage South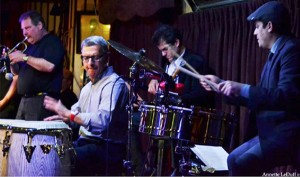 Aguankó, the ensemble led by percussionist and composer Alberto Nacíf, is a talented group of Michigan-based musicians who are steeped in the tradition of jazz infused Son-Salsa, with elements of Afro-Cuban folkloric rhythms. It has been described as relaxed … sophisticated … accessible … and at times marked by a driving funk. The unique Spanish word for such music is "sabor" — literally 'flavor' — and their music is indeed tasty, something cooked up with heart and soul by well-seasoned musical masters. You can shared in the feast through the Aguankó recording "Elemental," which features Nacif's original compositions — and even better, savor it live at Lansing JazzFest!
The band features Nacif on congas, and the exceptional Jose "Pepe" Espinosa — a Cuban native who is one of the best known and most versatile percussionists today. A veteran of over 80 recordings, he has toured with a host of major artists. Rounding out the sound will be Walter Cano on trumpet, Crhis Smith on trombone, Russell Miller on sax and flute, Nina Ott on piano, and Chris Lopes on bass.
Alberto Nacif was born in Oaxaca, México, where Cuban-derived rhythms were part of everyday music, Nacif began playing congas at a young age, and became a devoted life-long student of the drum. He studied and honed his percussion skills with top Cuban master drummers, He has performed nationally and internationally with Dizzy Gillespie, John Faddis, Jane Bunnett, Munequitos de Matanzas, Arturo Sandoval, and Frank Emilio Flynn. Nacif was originator and host of the Cuban Fantasy program for 10 years on WEMU-FM — Eastern Michigan University's NPR station, known for its focus on jazz, blues, Latin and roots music. He has recorded with Marcus Belgrave, the Lunar Octet, Francisco Mora, Tumbao, and Tumbao Bravo. The Aguankó recording "Elemental" features his original compositions.